---
Main - Program - Accomodation - Location & Travel - Organization
---
Location
The workshop will take place on the first floor of "Bâtiment IIIA" (where is located the LIFO) at the Faculty of Sciences, Campus de La Source, University of Orléans.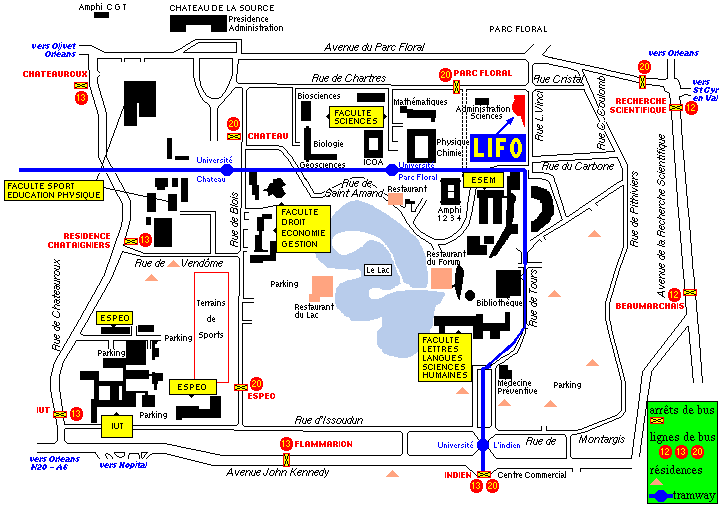 By public transportation
fly to Paris (Roissy-Charles-de-Gaulle or Orly)
go to the Gare d'Austerlitz (Austerlitz station) in Paris (south bank of the River Seine on the east)
Metro Gare d'Austerlitz, line 5 and 10, RER C
You can also go to Gare de Lyon (RER A) and cross the river to the other bank
take a train to Orléans (station)
Beware that there are 2 stations, Orléans-les-Aubrais and Orléans-Centre (the one you want to go to). All the trains stops at Orléans-les-Aubrais but you might have to switch to a city train to get to Orléans-Centre.
To get the timetable of the train, I suggest not to use the site of the national railways company but the more fast, friendly, add-free, and even more accurate:
you are then at walking distance from the city center, the old city, hotels and restaurants. To go to the university, take the tramway southward (or right on the provided map, direction "Orléans-La-Source Hôpital de La Source"). and go down at "Université Parc Floral" (second stop in the campus). The workshop is located in computer science building of sciences: "Bâtiment IIIA" where the LIFO is located. Since you arrive on the southern platform, just follows the tracks and turn north, This is the flat building with a large cylinder on top.
By car
The university is in green on the lower right. When you get there, use the above map. There is a free parking by the building.
The main roads to come to Orléans are Nationale road 20 (intercity) and Highways A71 and A10.
From Paris:
head for Bordeaux (Highway A10), then Bourges (Highway A71) and leave at "Orléans-sud" (exit number 2) and Olivet et Orléans la Source; After the toll, go straight (direction Orléans la Source) You will find yourself in a shopping area, keep going straight and cross 2 firelights, at the third firelight turn left (i.e. north) you are at the bottom left of the above map.